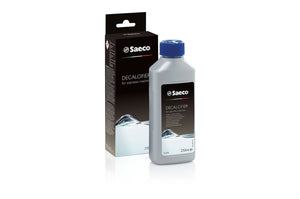 Product Description
Prolong your coffee machine life by regular decalcification.
Regular brewing affect machine interiors and lead to minerals build up, flavor abstraction and machine malfunctioning.
Philips decalcifier comes with exclusive formula to ensure thorough decalcification without harming the delicate parts inside your appliance.
Procedure
All Philips espresso machines come with user manual to instruct you through each varied steps of decalcification.
It takes up to 30 minutes and the process cannot be interrupted in between. Complete bottle needs to be poured in the water tank and water needs to be filled as mentioned in the user manual. 
Rinsing procedures are also mentioned in the user manual.
User manual and video assistance is available online for each Philips espresso machine model making descaling easy for you.

Please Note
Product only includes 1 bottle of 250 ml that lasts 1 single descaling cycle.
This is a Non-Returnable product hence kindly check the Philips espresso model before ordering. It works with all Philips/Saeco espresso machine models supporting descaling procedure.
In doubt?
Feel free to drop a note and we will be happy to serve you for any issues relating to the product or find a right product for you.
Estimated Order Processing Time: 12 to 24 hours (except for public holidays)
Estimated Delivery Time
Metros: 2 - 5 days
Rest of India: 3 - 7 days
(Due to region specific lockdown and curfew regulations, delivery timelines maybe impacted)
Your Trust is our priority